The Buhweju County Member of Parliament Francis Mwijukye has been poisoned, this website has learnt.
Hon Mwijukye is currently battling ailments related to food poisoning at undisclosed health facility.
The FDC strongman disclosed the development in one of the WhatsApp groups where he also revealed that he was poisoned through food.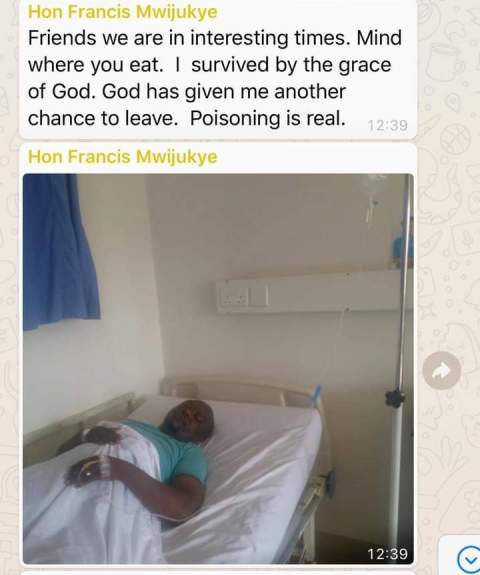 "Friends we are in interesting times, mind where you eat. I survived by the grace of God. God has given me another chance to live. Poisoning is real. Mwijukye posted.
Hon Mwijukye Francis rose to prominence for his close association with Col Kizza Besigye since 2006.
His closeness with Dr Besigye started when he came back from South Africa and was part of the group which welcomed him at the airport. Then he started moving around the country with him.
Mwijukye who belongs to the forum for democratic change (FDC) party beat NRM's Ephraim Gashanga Biraaro for the MP seat for Buhweju constituency on February 18th 2016. He collected 26,396 votes, while Biraaro polled 20,173 votes.
sopio@kampalasqoop.com